21st District Conference in Kota Kinabalu
27 June 2011
6,325 views
No Comment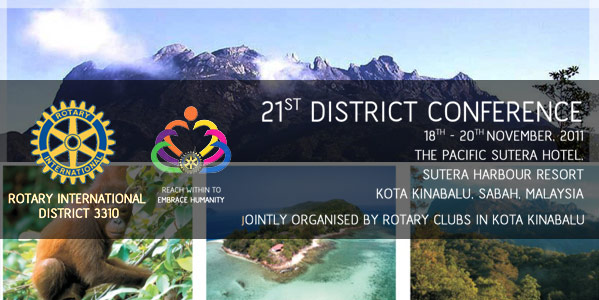 News Flash: Website Outage on 12 November
Member Access and www.rotary.org may experience a system outage on Saturday, 12 November. We apologize for any inconvenience.
This is 13 November, 2011 for us in D3310.
******************
Appeal from OC Warrence Chan: 10 November, 2011
Dear fellow Rtns,
In the past few weeks the Conference Secretariat has been updating the registration list and circulating to all clubs for information and checking.
I am sure by looking at the registration list, you can see there are still many Rotarians have not signed up. We are now only 7 days away from the 21stDistrict Conference.
There are 27 Clubs yet to register for this district event. As you aware that there are only 2 major events organised in a calendar year at such Rotarians are encouraged to participate and support them. The organising clubs always face with such stress situation where the number of participants only reach around 10% of the total Rotarians in District 3310. With such a low number, it is very discouraging, though much effort has been put in to promote and plan interesting programs to attract more Rotarian to sign up.
The latest head count on the registration only 180 Rtns plus 45 spouses. This indeed is discouraging. For those who have not register yet, I still hope you will do so soon.
I would like to thank all of you who have registered for the Conference. I am still looking forward to see more of you in Kota Kinabalu soon.
Regards,
PP Warrence Chan: Organising Chairman
…………………………………………………..
The Organisers are trying to arrange transportation from the airport to Sutera Harbour Hotel for participants coming in from Singapore. Please provide these detail below:
number of participants from your club
Flight date & Time
Message for the OC Warrence Chan:
Meanwhile please take note, We have committed to Pacific Sutera Hotel 200 rooms at a flat rate of RM330.00 nett /night inclusive daily buffet breakfast. If all the 200 rooms are taken up by mid October 2011, then I am afraid I can't ask the hotel management for the same rate. I would encourage outstation participating Rtns to sign up the hotel early to avoid disappointment.
Details of our club banker: Standard Chartered Bank,
Account holder: Rotary Club of KK-21DC,
Account number: 390156699425
Bank Swift Code: SCBLMYKX (applicable to Singaporean and Bruneian)
Bank Address: 20, Jalan Haji Saman, 88000 Kota Kinabalu, Sabah
For Reservations:
Step 1: Write/Complete and sign the registration form (inclusive of hotel booking portion if you are staying there).
Step 2: Please fax or scan and email the copy to DC Secretariat
This is for our reference and action. The concerned hotel will do the follow up